GameStop Soars After Successful $551 Million Equity Raise
GameStop shares are surging in after-hours trading following a statement by the firm that it has successfully completed an "at-the-market" equity offering program, selling 3.5m shares for gross proceeds of about $551m.
That is an average price of $157 per share (and the stock is trading around $180 after hours)…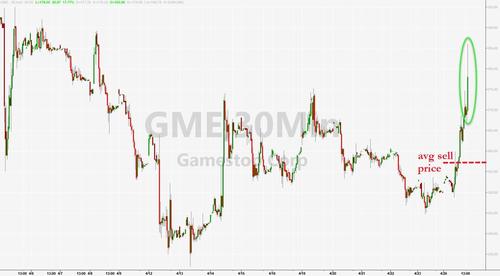 The full GameStop press release is below…
GameStop Corp. (NYSE: GME) ("GameStop" or the "Company") today announced that it has completed its previously announced "at-the-market" equity offering program (the "ATM Offering").

GameStop disclosed on April 5, 2021 that it had filed a prospectus supplement with the U.S. Securities and Exchange Commission to offer and sell up to a maximum of 3,500,000 shares of its common stock from time to time through the ATM Offering. The Company ultimately sold 3,500,000 shares of common stock and generated aggregate gross proceeds before commissions and offering expenses of approximately $551,000,000.

Net proceeds will be used to continue accelerating GameStop's transformation as well as for general corporate purposes and further strengthening the Company's balance sheet.

Earlier this month, GameStop disclosed that it issued an irrevocable notice of redemption to redeem $216.4 million in principal amount of its 10.0% Senior Notes due 2023 on April 30, 2021.

This voluntary early redemption will cover the entire amount of the outstanding 10% Senior Notes, which represents all of the Company's long-term debt.
Presumably this means the selling is over? Squeeze 3.0?
Tyler Durden
Mon, 04/26/2021 – 16:48
ZeroHedge News